I have initially registered to Lyst mainly because I am lazy person and any kind of "hacks" meant to make life easier are extremely appealing to me. Although online shopping is by far my favorite sport, with this avalanche of new brands and products emerging every single day, I was starting to resent all the time spent searching through all the stuff in order to find some hidden gems that could potentially qualify for my continuously expanding wardrobe.
~~~
Lyst: O modalitate isteata de a face shopping si/sau bani din blog
Mi-am facut initial cont pe Lyst pentru ca sufar de lene extrema si ma arunc automat in orice barca ce imi promite sa ma scoata mai repede la liman. Chiar daca shoppingul online e de departe sportul meu preferat, cu avalansa asta de branduri si produse ce apar ca ciupercile dupa ploaie este destul de dificil sa tii pasul si sa gasesti ceva demn de cumparat.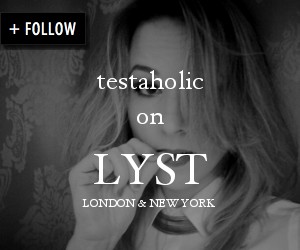 What does Lyst do for me, the regular user?
Lyst is a curator of cool stuff you can buy online. You get to follow your favorite brands, magazines and fashion bloggers and get a personalized stream of items in your Lyst feed, just like you would get the latest news on Facebook. Then, if you want to buy something you just follow the link as it takes you to the online store that is selling that item. It's that simple!
Bonus: You can get an email alert each time an item you added to your Lyst goes on Sale!
~~~
Lyst este un centralizator de chestii misto pe care le poti cumpara online. Cam la fel cum procedezi si pe Facebook, incepi sa urmaresti marcile si magazinele preferate si primesti zilnic in "news feed" noi aparitii de la acele branduri. Apoi, daca vrei sa cumperi ceva, cu un singur click ajungi pe pagina magazinului online care vinde acel produs. Super simplu!Bonus: Daca doresti, poti primi alerte pe mail de fiecare data cand un produs selectat de tine intra la reduceri.
What does Lyst do for me, the fashion blogger?
I have been using Lyst for some time now, but didn't pay much attention to their Blog Connect program. I just registered a while ago and then just went about my business, adding some items to my Lysts now and then. Only this week when I got an email alert to let me know I made $23.60 with one sale, I started thinking that maybe I should pay more attention to this possibility of making money from my blog. I mean a few bucks for just adding and pinning stuff I like feels like a good deal for a lazy-ass person such as I.


~~~
Foloseam Lyst de ceva vreme deja si stiam de programul lor pentru bloggeri, Blog Connect dar sincera sa fiu nu i-am dat prea multa atentie. M-am inscris si apoi mi-am vazut de treaba, adaugand din cand in cand cate o chestie ce imi placea in listele mele. Abia saptamana aceasta cand am fost instiintata pe mail ca am facut o vanzare de $23.60 m-am gandit ca poate ar trebui sa studiez mai bine aceasta posibilitate de a face bani din blog. In fond, niste maruntis acolo doar ca sa fac niste liste cu chestii care imi plac pare o afacere destul de buna pentru o trândavă extrema asa ca mine.
Blog Connect is basically an open affiliate program and it works also for generating more traffic towards your blog. How so? Here's what Lyst says about it:
How do I Get More Visitors to my Blog?
Whenever you write a blog post which includes links to products from Lyst.com or any from any of Lyst's partners, your post and products will automatically be shared as a Collection on Lyst where millions of users can visit your blog with a single click to read the full story.
How do I make money?
You make money when people buy the products you add to your lyst or your Collections. You also make money when people buy products from Lyst that you post on your blog, Facebook, Twitter, Tumblr and Pinterest.
So the more followers you have, the more likely you are to make money.
To help get you started, so for a limited time we're offering extra ways for you to earn money: Earn $10 by putting the "Follow My Lyst" button on your blog. Earn $10 for every blogger you refer to BLOG CONNECT.
How much money do I earn?
You earn 100% of the commission on any sale you make from your lyst, blog or social media accounts. Commission varies from store to store, but it typically ranges between 7-20% or $0.10 cents per click. You can check your dashboard to see how much money you have earned.
How do I get paid?
You can be paid by Paypal. Once you have $50 or more in the locked column on your dashboard, we will deposit it into your Paypal account. Payments are made on the last day of each month.
How do I know when I have $50 in my account?
You can visit your dashboard at any time to see a real-time total of the money you have earned and is locked.
So just create your Lyst account and start following Brands and Bloggers to get your stream going. Then just Add, Buy and Share as it pleases you!
P.S. Do not forget to follow Testaholic's Lyst, as I'm planning on creating some really cool collections very soon!

[wp_ad_camp_1]
Copyright©Testaholic.ro – Lyst: A Smarter Way to Shop and Make Money from Your Fashion Blog